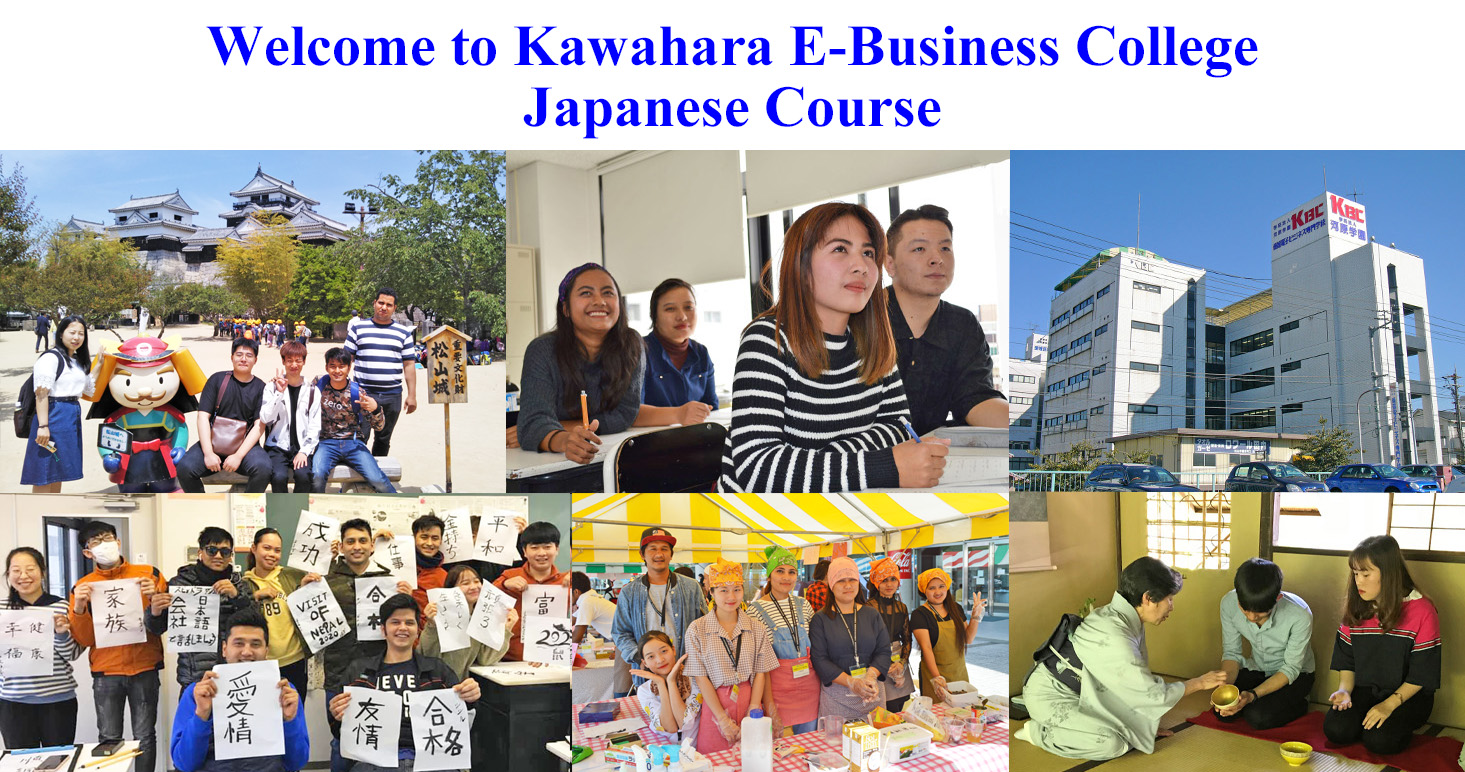 ★

Interview with a student who passed JLPT N1 with a perfect score!!
The strength of this School
Classroom teachers sincerely support their students
Teachers sincerely support students to adjust to Japanese society as well as academic life and career questions.
Also, we hold face to face support talks between teachers and students to address their concerns and questions.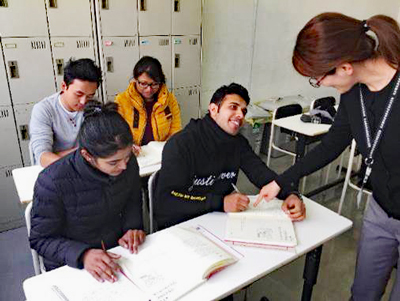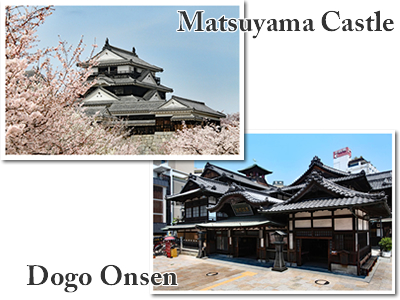 Warm climate and people, low cost living
The school is located in Matsuyama which is the center city of Ehime Prefecture. The population of Matsuyama city is approximately 510,000. Natural disasters are quite few, the climate is warm, and people are gentle.
There is a Matsuyama Castle which was built about 400 years ago at the center of the city. The downtown area, supermarkets, and city hall are all inside the walking distance.
As prices are rather low, the cost of living can be reduced compared to other large cities.
There is also Dogo Onsen hot spring in the city.
School events
The Kawahara Gakuen School Corporation holds school festivals and sports festivals every year. At the school festival, students make and sell their own country's traditional dishes and hold a Japanese speech contest, etc. Because international students participate in the festivals with Japanese students, there are many chances for them to interact with Japanese people.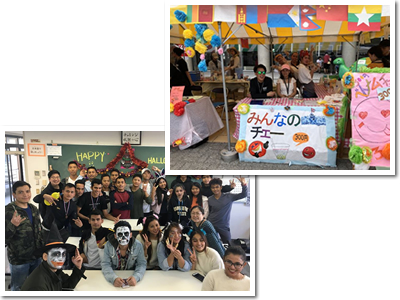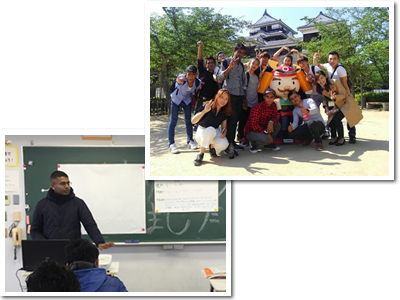 Curriculum focusing on Japanese practical skills
Introduce a lot of lessons that students conduct research and make presentation after finding themes by themselves. Develop the problem-solving ability and presentation skills that are needed after going to upper school or finding employment. The school also provides extracurricular classes and internships so that students can improve themselves.
After graduation, students can enter the Kawara Gakuen Group's vocational school. Enrollment fee and some tuition fees will be exempt.
After graduating from the Japanese language department, you can study in the International Tourism Business Department in our school to study hotels, tourism and travel industry. Students who have obtained the Japanese Language Proficiency Test N2 can also proceed to other vocational schools in the Kawara Gakuen Group.
Kawara Gakuen Group has nine vocational schools that provide specialized education in various fields such as IT, animation, cooks, medical care, etc.
We provide three courses: 1 year course, 1.5 year course, and 2 year course, aiming at entering Japanese universities or vocational schools.
At the time of enrollment, students take placement tests and learn in classes that suits their level. We will review the class, progress, content at the end of each semester (one semester is six months).
In order to acquire the four skills of Japanese: "speaking, listening, reading and writing" in a well-balanced manner, we provide the curriculum that is composed of skills-specific subjects and comprehensive subjects. In addition, we adopt exercise lessons from the end of the beginner's stage, which are aimed at comprehensively acquiring Japanese proficiency, focusing on improving research and presentation skills.
Assuming that the students of 1 year course have approximately N3 of the Japanese language ability at the time of enrollment, those of 1.5 year course have about N4, and those of 2 year course have about N5, the students from the countries where they don't use Chinese characters aim to master N2, those from the countries where they use Chinese characters aim to master N1 before graduation.
Application fee
20,000 JPY
Entrance fee
80,000 JPY
Tuition fees
1 year course
600,000 JPY
1.5 year course
900,000 JPY
2 year course
1,200,000 JPY
Support for studying abroad
Scholarship
Name of Scholarship
The Monbukagakusho Honors Scholarship for Privately-Financed International Students
(*Monbukagakusho: Ministry of Education, Culture, Sports, Science and Technology)
Conditions
Students who have good grades and attendance rates, and are recommended by the school.
Payment amount
48,000 yen / month
Period
12 months (From April in the academic year of selection to next March)
Please see the homepage of JASSO for more details:
https://www.jasso.go.jp/en/study_j/scholarships/shoureihi/about.html
Accommodation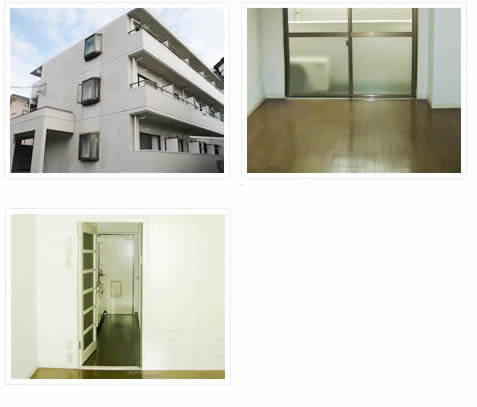 All apartments where students live in are located near the school, and the school contracts and rents the apartments.
Students can live comfortably and securely because school manages the apartment contracts.
Living costs sample;
The cost of living in Matsuyama City is much less than those of other larger cities.
Students don't need to pay daily transportation cost because apartments are within walking distance from the school.
Rent: About 17,000 ~ 20,000 JPY / month
Utilities (electric, gas and water): About 5,000 JPY ~ / month
Part-time job support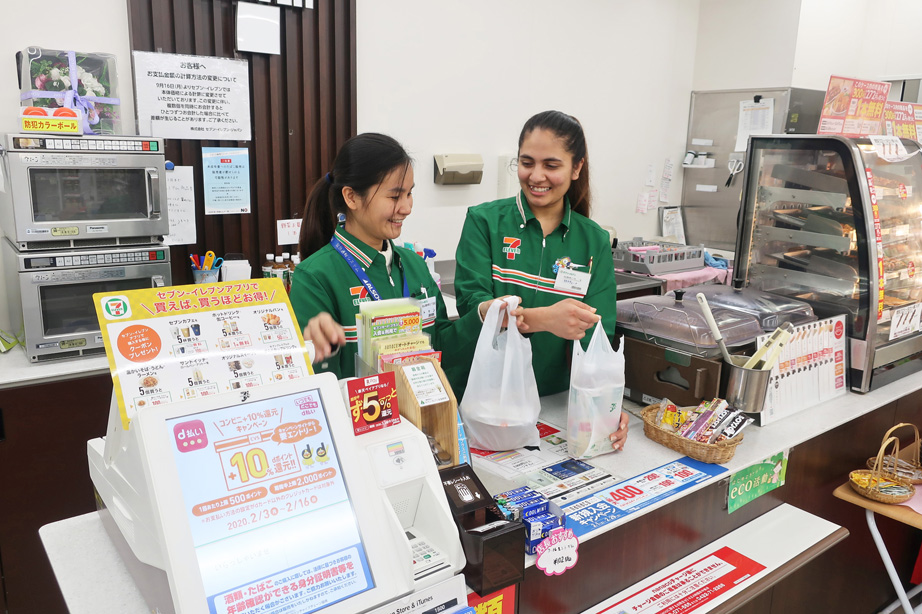 The school will provide thorough support for the first year students to find their part-time job.
Most students can decide their part-time job one month after entry.
Dedicated welfare counselors for students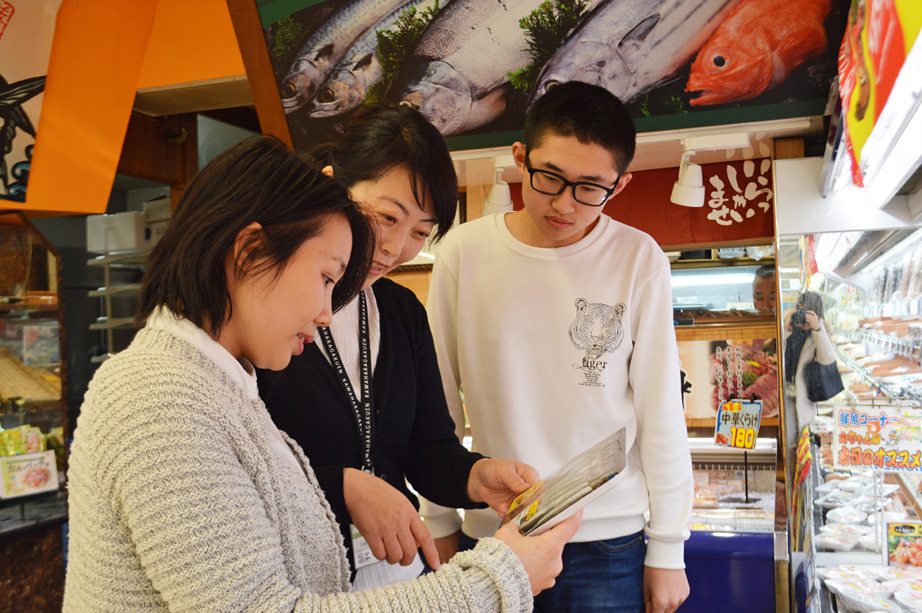 The welfare counselors of the school support all students' daily life.
We assist students intimately from their administrative procedures to correspondence of illness, consultation of trouble, etc.
After graduation
More than 90% of our international students go on to universities or vocational schools in Japan after graduation.
After graduating from the Japanese language department, students can also proceed to other vocational schools in the Kawara Gakuen Group. Kawara Gakuen Group has nine vocational schools that provide specialized education in various fields such as IT, animation, cooks, medical care, etc.
Educational Paths after graduation
University:Ehime University, Matsuyama University, Saint Catherine University, Kobe Health Welfare University, etc.
Vocational School:International Tourism Department of Kawahara E-business College, Kawahara Medical Welfare College, Nissan Automobile Technical College Ehime, Ehle College of Osaka, Nippon Omotenashi College, Nakano School of Business, Chiba Nikken Institute of Technology, etc.
Consultation on educational and career paths
The school fully supports students with:
Course consultation
Individual career counseling
Introduction of Universities and Colleges
School tours
Preparation guidance for application documents
Interview guidance
Admission procedure guidance, etc.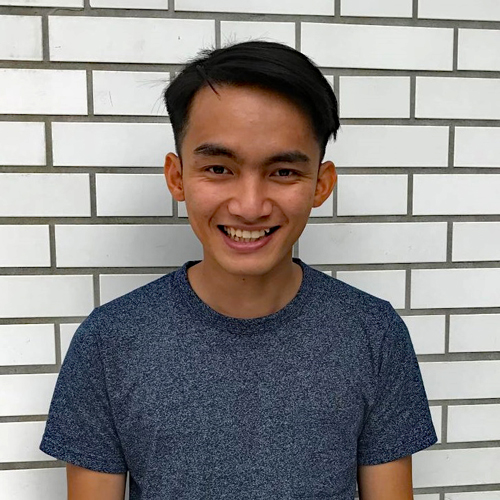 Mr. NGUYEN DINH LAU
(Vietnam)2-year course
Q What made you come to Japan to study?

A At first, I was interested in Japan by watching Japanese animation on the Internet. Then I decided to come to Japan to study Japanese traditional culture.

Q What do you think is good about this school?

A We can participate in various events. Especially, the school festival was very impressive for me. We made the Vietnamese sweets "Che" and introduced to a lot of Japanese friends. It was a very good experience.

Q What is Matsuyama like?

A The climate is warm and the atmosphere is quite nice. It doesn't rain much and snow is rare. There are few typhoons and few natural disasters. I think Matsuyama is a very good place to live.

Q What are your dreams for the future?

A I would like to work as a "bridge" between Vietnam and Japan in the future.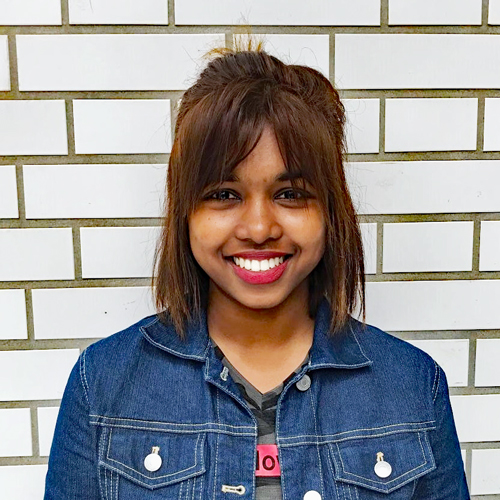 Ms. DADAYAKKARAGE SONALI WASUNDARA JAYATHILAKA
(Sri Lanka)2-year course
Recipient of the Monbukagakusho Honors Scholarship for Privately-Financed International Students
Q What do you think is good about this school?

A The teachers are very enthusiastic. They teach us enthusiastically with the teaching method suitable for each level of Japanese. In addition, they empathically provide us advices on our daily life.

Q What is Matsuyama like?

A It is very safe and quiet city. And it is very convenient because we can buy anything we need for living near the school. Living costs are quite low. I think the environment is very good for studying.

Q How did you spend your scholarship?

A I used it for school expenses. I was able to study at ease for the purpose of going on to university. I appreciate it very much.
About Kawahara Gakuen School Corporation
Kawahara Gakuen Group has one university, nine vocational colleges and three high schools in Ehime prefecture and Aichi prefecture. It is a School Corporation with about 5,000 students.
Our educational philosophy is "to live always with gratitude". We aim to develop human resources who can contribute to our society while caring for and cooperating with other people.
In Kawahara Gakuen Group, we have the University of Human Environments which has Department of Psychology, Department of Environmental Science and Department of Nursing. In addition, we have nine vocational colleges which provide many specialized courses such as IT, medical care, nursing, tourism, beauty, design, animation, etc.
About Matsuyama City
Our school is located in Matsuyama City, Ehime Prefecture, where is surrounded by the beautiful and peaceful Setouchi Inland Sea on one side and mountains on the other. Setouchi inland sea provides an abundance of seafood which supplies fresh fish to cook delicious seafood dishes for the people of Matsuyama. Matsuyama Castle stands in the middle of the city, and the oldest hot spring in Japan: Dogo Onsen is also located in the city. Matsuyama is a historic city filled with warm hospitality.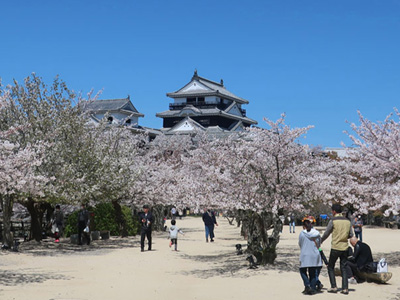 Matsuyama Castle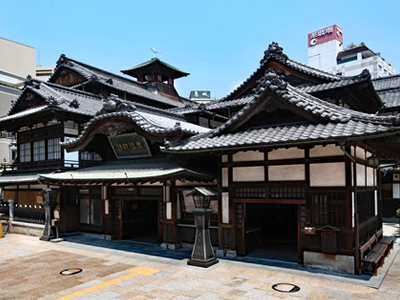 Dogo Onsen Hot Spring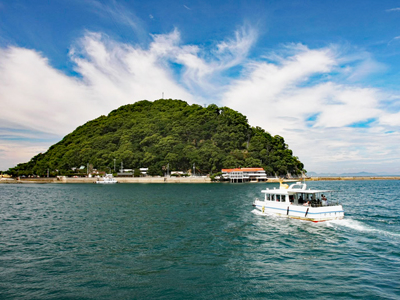 Kashima Island
School Introduction Brochure